※We will send two series of drama postcards and one secreted cards for the first print gift.

※The photo book is NOT autographed.
★1回の注文で購入できる商品数は制限はございません。初回限定特典は数量限定のため、なくなり次第終了となります。
★オフィシャルサイトにて購入の場合、初回限定特典はその他のサイトと異なるため、必ずご確認の上、ご購入をお願いします。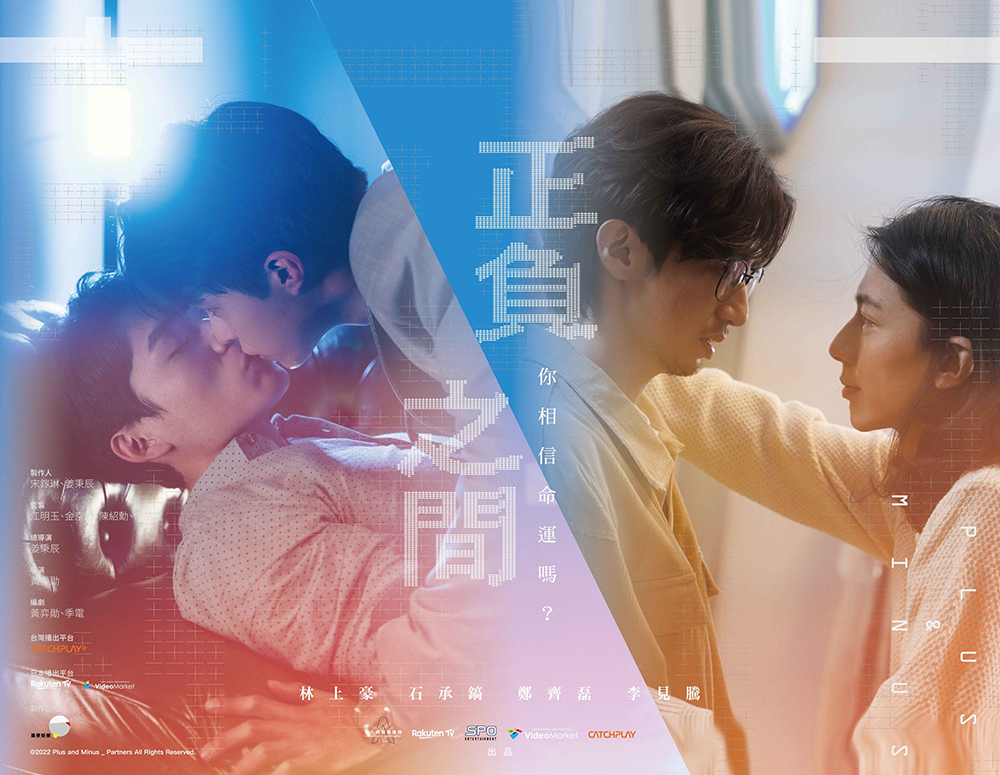 ★No.1 Taiwanese drama series on CATCHPLAY+(Taiwan)
★The most watched title in first month on Rakuten TV (Japan)
★Top 1 Asian content on Video Market (Japan)
★licensed to 180 countries and area, almost all over the world
★The most kisses of Taiwanese BL drama
Plus & Minus is a sweet love story about these two couples.
Cheng Tse-shou and Fu Li-kung met in the kindergarten. They have been friends since, and they work at the same law firm and live close. 
When Tse-Shou's father and Li-Kung's father try to set up a girlfriend for their sons, it unexpectedly shakes the two young men's friendship of 22 years.
Chien Ying-tse is a divorcee who runs a laundry above a bar named "Garden of Rover." 
One day when he finally can't stand the mess and noise of the bar anymore, he quarrels with the bar manager. 
That's when he first meets with Kato Yuuki, a charming bartender. They have no idea that this is the beginning of their romance.
Size: 17X23X1.2cm, 248 pages
Language: Traditional Chinese
★台湾の若手俳優マックス・リン、ハオ・シー、キレイ・チェン、マット・リー主演
★台湾コンテンツ配信プラットフォームCATCHPLAY+にて台湾ドラマ視聴ランキング1位
★Rakuten TVにて月間人気ランキング1位
★ビデオマーケットアジアドラマTOP 1

★全世界180ヶ国にて同時配信。台湾BLドラマ史上キスシーン数の最高記録を作り、ファンの間で話題沸騰中
#林上豪 #:鄭則守(チェン・ゾーショウ)役
#石承鎬 #:傅理躬(フー・リーゴン)役
#鄭齊磊 #:加藤勇気(かとう ゆうき)役
#李見騰 #:簡英澤(ジエン・インゾー)役
【あらすじ】
惹かれ合う正と負の両極は、どこにいたとしても互いのためだけに存在する。
子どもの頃から共に過ごしてきたチェン・ゾーショウ(鄭則守=マックス・リン)とフー・リーゴン(傳理躬=ハオ・シー)は、
社会人となった今も同僚として同じ弁護士事務所で働いている。
そんな二人の20年超えの友情が、思いがけず揺らぎ始めることに。
両極でバランスが取れていた2つの天秤が傾き始め、ときめく思いは徐々に彼へ向き、とうとう抑えきれず……。
± 写真集
ページ数:248ページ
寸法:17x23cm
©2022 Plus and Minus _ Partners All Rights Reserved.